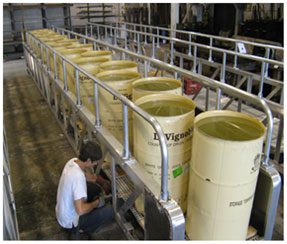 Project Detail:  Project included the fabrication of (4) Brows constructed of 6061-T6 structural grade aluminum.Two (2)Brows are 35 feet in length and the remaining (2) are 40 feet in length and all are 48" wide.  Construction details include open truss sides with handrail added to top of each side truss.  The deck/walking surface included 1"non-skid aluminum plank with a special 1" aluminum cleat bolted to the plank decking.  The cleats are an aluminum extrusion designed and manufactured especially for HPS Fabrications.  These cleats are sold separately to other fabricators for use on various catwalk and climbing applications.  Each Brow was provided with stainless steel tie down rings, lifting lugs and casters designed with 4000-pound capacity.
Additionally, each Brow was load tested to record maximum deflection at fully loaded design conditions.  All testing was conducted at HPS's facility with test reports issued to the Contracting Officer.
A complete set of fabrications drawings was prepared by our sister company, Enco Engineering for use in the shop during fabrication.