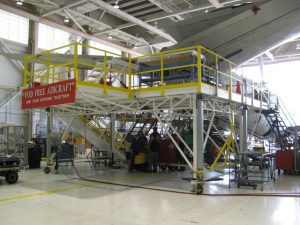 HPS, military platform manufacturer, has created many support structures for our armed services.
Built for Tinker Airforce Base, this E6 work stand features an all steel modular upper deck design with each module supported on structural tube truss and column support frame.
 All modules and support elements use bolted connections match marked for easy assembly.
SCREW-JACK OPERATION: Four "Lift Assemblies" are positioned at the (4) corners of the main platform (14ft x 23ft nominal). Each Lift Assembly includes a structural tube in tube configuration surrounding the screw jack housing and Acme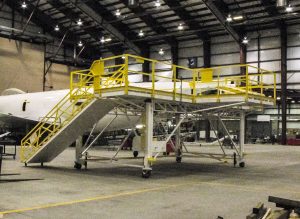 screw thread. The tube in tube configuration positions the larger tube above the smaller tube to prevent water entry into the jacking screw. In addition, this provides protection from potential damage to the Acme screw threads. All structural tubing conforms to ASTM A500 Grade B.
The lift mechanism at each assembly is a Duff-Norton standard model M9010-60 providing 60 inches of vertical travel and a capacity of 10 tons. The Drive System (driving the (4) Lift Assemblies/Duff-Norton Actuators) includes a Reducer with air motor and air brake. The air motor has an maximum operating pressure of 100 psi. The system is designed based on 230-cfm air at 80 psi.
The brake is spring set and requires a 50 psi air release pressure. The drive system gear reducer is provided with a double output shaft. The output shafts of the gear reducer are connected to two (2) 3-Way Mitre Gear Boxes with 1.5" diameter shafting. The Mitre Gear Boxes are in turn connected to each of the (4) Duff-Norton Actuators (located at the 4 corners) also with 1.5" diameter shafting. Drive shafting is located below the deck level providing easy access at grade level below the stand.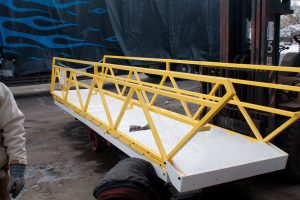 TRANSLATING STAIRWAY: Access stair is constructed using (2) parallel angle stringers bolted to the end carrying plates of each stair tread. The bolts act as a hinge between the stair tread and the stringer to maintain level treads throughout the full operating height range of the platform. Two (2) 6" diameter free running (no brakes or swivel locks) casters are located at the base of the stair, providing support and smooth stair movement through the full travel of the stair. The stair stringers were provided with full diagonal bracing for stability during access and while the stand is being moved/towed. A metal pan under the full length of the stair treads capture potential materials (on the shoes of workers) that might cause FOD.