Project Details:  Project includes RDF (Refuse Derived Fuel) fuel feed equipment for use with a Fluidized Bed Boiler.  Main components of the feed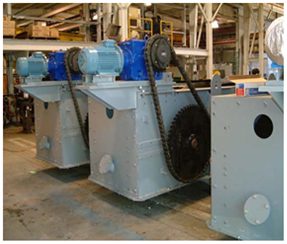 equipment included, Feed hopper charging ram assembly, Conveyor hopper assembly, apron chain conveyor, conveyor discharge spout assembly and pneumatic RDF distributor arrangement.  The complete system required a special epoxy prime and finish coat, all fabricated materials were sandblasted to SSPC-SP6, commercial blast prior to prime coating.  Details of these components are described below.
FEED HOPPER CHARGING RAM ASSEMBLY: A total of three (3) each assemblies were required for project; approximate dimensions for each ram assembly are 4 ft wide by 26 foot long by 7 foot tall with a weight of 11,230 pounds each.  The ram assembly included an Inlet Hopper (approx 4ft x 12ft x 5ft tall) constructed of ¼" nitronic  (a specialty stainless steel that has work hardening characteristics) with mild steel stiffeners.  The inlet hopper included (2) flanged inlets, large hinged access panel and internal spray header.  Ram assembly was constructed of heavy MC12 x 42.7 structural grade channel, with internal and external stiffeners and attachments necessary to bolt the Inlet Hopper in addition to front and rear top covers and access panels in addition to the bottom covers and lower hopper assemblies.  The internals included a hydraulic cylinder with fabricated ram.  All hydraulic piping was shop installed and all hydraulic components were tested.  The ram proper was constructed of structural grade plate and channel weighing approx 2000 pounds.  The ram was supported on either side aluminum bronze and 4140 hardened steel wear strips.  All welders performing work on this project were required to by certified under the AWS D1.1 requirements (a structural certification).
CONVEYOR HOPPER ASSEMBLY:  The hopper was a very complex triangular shaped weldment, flanged on all sides to provide a bolted fit-up with the adjoining Ram Assembly and Apron conveyor.  The third side included a bolted access cover with observation ports.  The materials of construction included ¼" nitronic stainless steel with mild steel flanges and stiffeners.  Three hoppers were fabricated; weight each of 1,630 pounds.
APRON CHAIN CONVEYOR:  Three Apron conveyors; 4ft tall by 4ft wide by 22 feet long each weighing 17,350 pounds was fabricated, assembled and tested prior to shipment.  The basic materials of construction include, 3/8" steel side plates, structural beam and channel cross ties, AR250 (abrasion resistant) top cover plates, mild steel bottom cover plates, crane rail with flame hardened head, 4" diameter 4140 shafting, heavy plate steel motor base and all required guards.  The complete machine was assembled and tested prior to shipment
CONVEYOR DISCHARGE SPOUT ASSEMBLY:  The discharge spout was constructed of ¼" nitronic stainless steel with mild steel stiffeners.  The flanged inlet connection was match drilled with the apron conveyor discharge flange.  Hinged and bolted access cover was provided along with 2" diameter pipe spray nozzle.  The discharge flange was provided with mild steel stiffening gussets to support adjoining equipment.  All welds were performed with certified welders and the completed spout was checked and verified to be in accordance with design drawings prior to shipment.
PNEUMATIC RDF DISTRIBUTOR ARRANGEMENT:  Three arrangements were supplied each having a weight of 7,000 pounds approx.  The distributor arrangement included five (5) basic chute sections each with a cross sectional area of approx. 18 x 36.  The actual length and shape of each section changed considerably from section to section; each section changed the direction of material flow to the boiler inlet.  Each chute section was provided with a special fabricated air plenum designed to assist the movement of RDF along the chute and into the boiler.  The two main chute sections included bolted top access panels.  Removable bottom panels were provided with bolted wear plates.  The complete chute system was constructed of 304SS (stainless steel) material due to its superior wear and corrosion qualities.  Each of the chute arrangements was bolted and match marked with its adjoining section to insure proper field fit and alignment.  All chutes were sand blasted and painted prior to shipment.