Project Details: Over the years HPS has provided a wide range of fabricated items and services to our clients. Our clients provide a wide range of products to municipal and industrial power generating plants burning solid fuel. In this record we will address a variety of the smaller fabricated items and services provided. If additional information or clarifications on these items is required, please contact HPS.
Components: Components include such items as motor bases, guards, air handling devices, duct work, coal handling gates, chutes, control arms and brackets. These components are typically fabricated of mild steel plate and other rolled shapes. Each item is fabricated to the client's drawings, prime painted, checked and verified prior to shipment. Components are often fabricated from stainless steel materials in consideration of ware, abrasion and corrosion.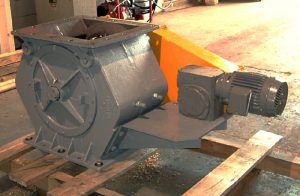 Services: HPS has provided assembly of coal feeders and rotary seal feeders. These are standard pieces of equipment sold by our client. All components of these feeders are shipped to HPS and our technicians will assemble and paint these products.
Stokers: Our client provides a variety of stoker types;   The "stoker" is that part of an industrial power generation boiler that provides the bed for burning solid fuel. HPS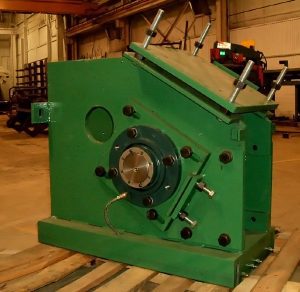 has a long standing relationship with our client providing complete fabrications and assembly of their rotary grate and rotary stokers. Fabrication includes heavy structural steel support, front and rear bearing support stands, front mounting plates, seal plates, fixed and vibrating frames, motor base and drive brackets with required guarding, and complete duck work and nozzles for supply of combustion air to the boiler. Each rotary stoker is constructed in modules and each is test run in our shop prior to shipment. Refer to detail records for additional information.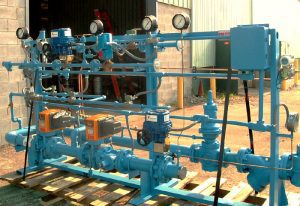 Gas burner: A very complex fabrication that included complete assembly of gas piping, control valves and linkage. All electrical control valves and devices were pre-wired to junction boxes.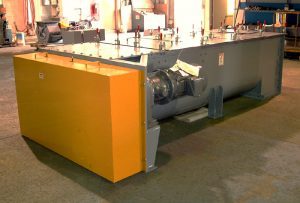 Mixers: This mixer, is designed to mix and condition ash, sludge and other dusty and abrasive granular materials with water. HPS provides complete fabrication of mixing tub housing, motor and gear box mounting stand, guards, covers shafts and mixing paddles. In addition the mixer is completely assembled and tested prior to shipment. Refer to detail record for additional information.