With 23 years experience, HPS provides complete fabrication and assembly of various Salt Bath Furnace Systems.
What makes a Salt Bath System?
Size:
Most systems consist of a salt bath furnace, rinse tanks and hoods.  Sizes range from small unitized systems to large module systems with multiple salt bath furnaces and rinse tanks exceeding 100 feet. Additionally, sizes of the furnace can be as large as 8 foot deep by 12 foot wide by 40 foot long, weighing in excess of 100,000 pounds.
Support:
Monorail systems complete with structural steel support, hoist and hoist work stabilizer are provided on some systems.  The work stabilizer is a structural support frame hung from the hoist with counter balanced weights to maintain proper orientation of the part being handled. A heavy structural steel support base provides the necessary support for furnace and rinse tanks.  The base is typically constructed from 8" and 10" wide flange beams with lifting lugs. 
Testing:
Salt bath furnaces are typically constructed from ½" to 1 ¼" mild steel and require full penetration welds with documented dye penetrant and leak test reports. 
Protection:
Fire brick is shop installed between the support base and bottom of the furnace.  The side walls of the furnace are then surrounded with 3/16" plate steel, which also acts as a containment vessel in the event of furnace leak or rupture. 
Configuration:
Rinse tanks are typically constructed from 3/16" to ¼" mild st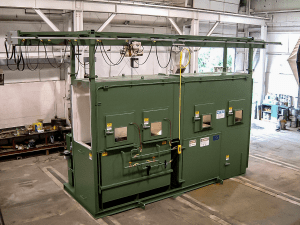 eel or stainless steel plate. 
Some rinse tanks have a two compartment design with one side being cold water and the other side being hot water.  The hot water side is heated by either gas fired burners or electric heaters.  The hot water side is insulated with fiberglass insulation and outer mild steel skin plate.
The salt bath furnaces and the hot water rinse tanks require gas piping for the burners.  The rinse tanks require water fill, drain, overflow and on occasion air agitation piping.  Some units also require piping for any hydraulically or pneumatically operated doors or covers.