Project Details:  HPS has a long standing relationship with our client providing complete fabrications and assembly of rotary grate stokers.  This project included (3) main areas:  (1) Stoker Frame; (2) Side and Rear Air seals; (3) Stoker Front and Extension Front.  This particular project was unique in that it is one of the widest stokers every engineered by our client.  The unit was approximately 40 feet wide.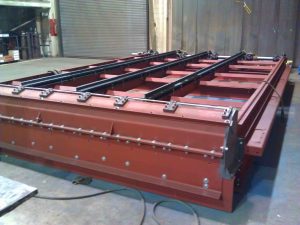 Stoker Frame:  The stoker frame includes approximately 36,300 pounds of structural support steel.  The complete structural frame was shop assembled; approx footprint; 41 feet by 26 feet by 4.5 feet tall.  The frame consisted of standard structural wide flange members in addition to (2) ½" plate girders spaced 8 foot either side of centerline and 3/8" plate girders at each side of the stoker frame.  The front support included a channel weldment (made up of (2) 12" channels) with reinforcing for attachment of the front bearings and 4" diameter shaft (shaft and bearings were provided by customer).  The rear support also a channel weldment with additional 15" channel and reinforcing for attachment of the rear grate shaft and bearings.  The complete frame was shop assembled and painted prior to shipment.   Both the front and rear support weldments required the shafts and bearings to be shop installed.  Our mechanics worked with Detroit Stoker engineers to insure proper fit, alignment and all critical tolerances were set prior to shipment.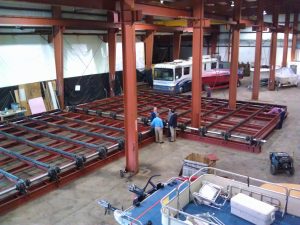 Side and Rear Air Seals:  The air seals prevent air infiltration into the industrial power boiler.  Seal material will vary from fabric to mild steel plate or various grades of stainless steel plate.  This project required all seals to be constructed of mild steel plate, thickness varied between 12 gauge to ¼" material.  The basic construction includes angle or bar stock field weld to the boiler headers; additional brackets (angle or bar stock) are shop attached to the side and rear stoker support frame with a fabric or metal seal plate bolted between these (2) attachment points.  Our customer typically provides fabric materials and all plate seals are fabricated by HPS.
Stoker Fronts and Extension Fronts:  Basic components include:  (a) Stoker front Support, (b) Upper front panels, (c) Extension front panels and (d) Flat arch support.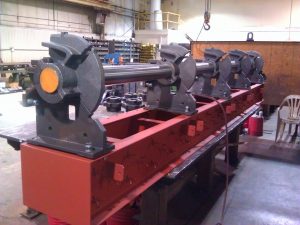 The Stoker Front Support is the primary structural support member for the ten (10) coal feeders supplying fuel to the boiler.  The overall length of the support was 49'-6" and because of shipping limitations it was necessary to fabricate this support in three sections.  The center section approx. 33 feet in length had a weight of 5,890 pounds.  The center section was a built up structural section including (2) structural tubes; the main tube was a 20 x 8 x ½" wall and the second was a 12" x 8" x ½" wall tube, in addition a structural angle 5 x 5 x ¾" was attached to the bottom of the 20" tube that provided the attachment point for the Upper Front Panels.