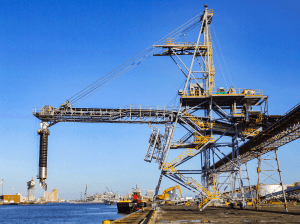 HPS was contracted to design and supply a replacement boom for Transmontaigne's ship loader located in Chesapeake, Virginia.  Transmontaigne's port facility in Chesapeake loads ammonium sulfate.  The replacement boom was constructed of 6061-T6 structural grade aluminum. 
Project: 
Replacement ship loading boom.
Location: 
Transmontaigne port facility in Chesapeake, Virginia USA
Project Details: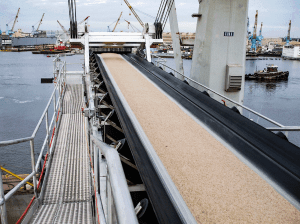 Transmontaigne's port facility in Chesapeake, Virginia loads ammonium sulfate into vessels at a rate of 1000 TPH.  Because of the corrosive characteristics of ammonium sulfate, 6061-T6 aluminum was used to construct the replacement boom.  The boom provides 52 feet (15.8 meters) of reach outboard of the pier fender line and is fitted with a 72" (1800mm) belt conveyor.   Walkways along both sides of the conveyor and around the head chute provide complete access to the belt and mechanical components.  The discharge flange of the head chute is equipped with a telescopic spout that provides approximately 60 feet of vertical travel.  The discharge end of the spout is provided with a quick release ring allowing use of a trimming spoon or loading skirt.  HPS's scope included the design and supply of the boom and conveyor.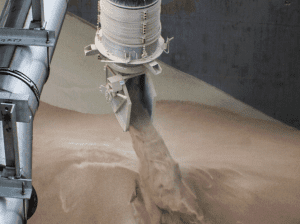 The redesign using structural grade aluminum brought several engineering and fabrication challenges to the table.  The complete boom including walkways was shop assembled to verify proper fit and interface.  The total boom length was 88 feet (26.8 meters) and required a bolted field splice.  New stainless steel cable was provided in addition to a redesigned sheave assembly at the top of the existing gantry structure.  The redesign included a dual cable lifting and support scheme.  The new design included a equalizing arm at the upper sheave block assembly. 
The corrosive characteristics of the ammonium sulfate required the use of stainless steel conveyor idlers in addition to boom lifting cables.