HPS was contracted by to design a new Clarifier Rake Arm System at the Detroit Waste Water Treatment Plant in River Rouge Michigan.  The Clarifiers, at 250ft in diameter, are some of the largest in the United States.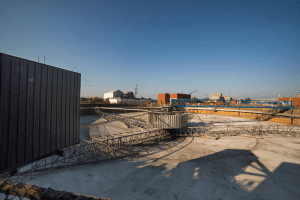 The Rehabilitation Project for Clarifiers #13 and #14 required a new Center Cage and Rake Arm design using logarithmically spiraled blades.  The system also required a design torque of 2,000,000 ft-lbs as well as 115ft long cantilevered trusses.  The Center Cage supports a 72 blade diffuser system as well as the surface skimmer arms.
Both Clarifiers and new surface cement was applied using the rake arms as guide screeds.  Design specifications called for a 1/4″ tolerance over the 250ft diameter double cone floor surface. The rake arms worked exceptionally well during this phase if the installation.
A load test procedure was developed to physically induce the 2,000,000 ft-lb design torque.  Once this testing was complete the clarifiers were brought back on line.